M27 (Ha+R)GB, Dumbbell Nebula in Vul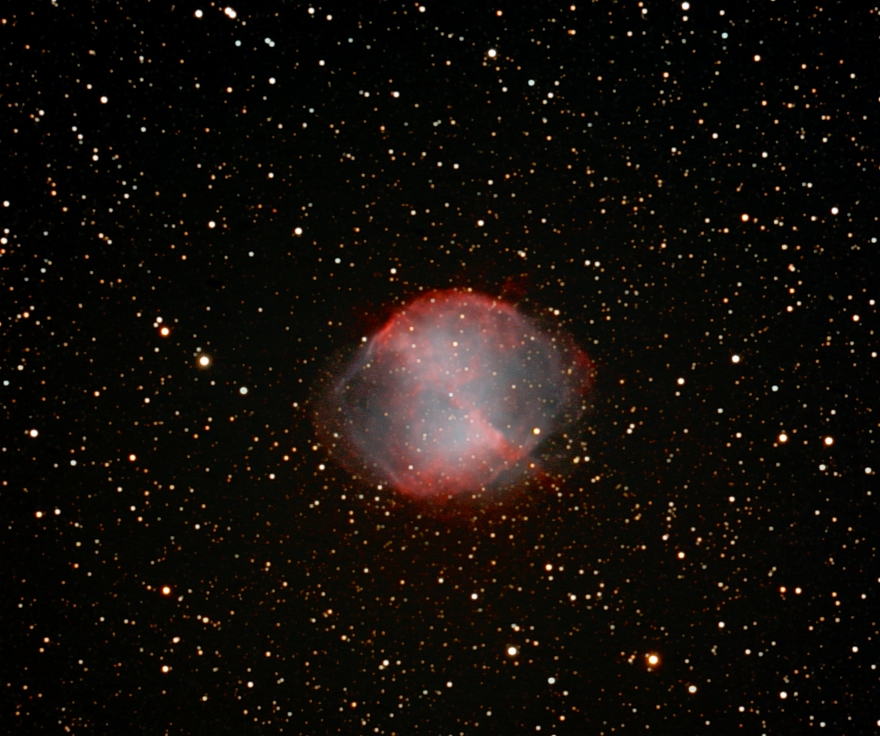 Equipment:
Telescope: 203mm TMB APO at F9
Camera: Modified Canon 300D (IR Filter Removed)
Color Components: Luminance H-alpha : 18 x 300s IS0 400 with Astronomik H-alpha filter, Color : 33 x 300s RGB with Astronomik L filter.
Mount: AP 1200 GTO
Autoguider: SBIG STV
Date: 6/28/2005 - 6/30/2005
Processing History:
All light, dark, and bias frames were first converted to 16-bit compressed FITS using Canon linear daylight white balance.
H-alpha and RGB image sets were dark and bias calibrated, aligned, and stacked with excluded min/max average separately. The stacked H-alpha and red data was then averaged to create an enhanced (Ha+R)GB image.
Digital development for the initial brightness increase followed by fine adjustment using curves.
Color slightly enhanced using additive color balance.
Star size was reduced using the star size and halo tool.
Adaptive contrast increase was used to sharpen the image slightly.
Focused, acquired, and processed using ImagesPlus 2.75 beta 2.
Copyright &copy 2005 MLUnsold Digital Imaging. All Rights Reserved.