Globular cluster M3 in Canes Venatici.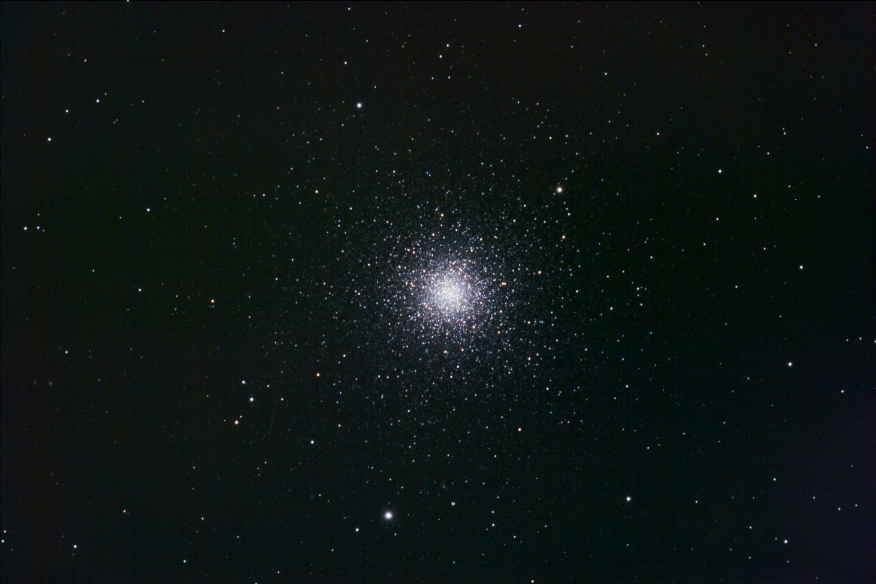 Equipment:
Telescope: 203mm TMB APO at F9
Camera: Standard Canon 20D, ISO 400, shutter 300 seconds with noise reduction off
Mount: AP 1200 GTO
Date: 6/8/2005
Processing History:
13 Canon raw light images and 16 flat, bias, and dark frames were converted to 16-bit lossless compressed FITS format using daylight white balance.
Calibrated with standard flat, bias, and dark master frames created from an average of 16 flat, bias, and dark frames, respectively.
Aligned with correlation then stacked using excluded min/max average.
Initial brightness and contrast increase performed by digital development with soft sharpening and red emphasis set to green to preserve star colors.
12 iterations of adaptive Richardson-Lucy restoration with 7x7 PSF was applied to only the midtones and highlights to further restore the image.
Mild levels color balance and saturation adjustment.
Red light pollution gradients removed by applying the planar background tool to only the red data.
Full resolution image was reduce to 25% and 50% for display.
Focused, acquired, and processed using ImagesPlus 2.5.
Copyright &copy 2005 MLUnsold Digital Imaging. All Rights Reserved.